10 Best Slice Of Life Manga That You Shouldn't Miss
---
The writer Robin E. Brenner had said in his book "Understanding manga and anime" that "slice of life" is a genre that is more similar to melodrama than drama, as it portrays a large number of scenes with drama and comedy in a very short duration.
Its themes usually range from relationship, family, school, and friends, which are the thing that drives a young person life.
So, this is a list of ten such manga and other recommendations that you should try.
10 –

Bakuman
Created by Tsugumi Ohba and Takeshi Obata
Genres: Comedy, Slice of life, Drama, Shounen, Romance
Volumes: 20
Status: Completed
Original Run: Aug 11, 2008 – Apr 23, 2012
Who Would Like it?
From the creators of the famous Death Note manga, this a slice of life manga about two high-schooler mangakas.
Both boys one who will illustrate the manga and others who would write it team up to fulfill their dream to become a successful mangaka and get an anime made from it.
This manga which is said to be inspired from their real-life of the creators shows you a behind the seen world of how a manga is made and how much hard work goes into it in a Shonen like fashion.
Synopsis
Moritaka Mashiro is a junior high student, who when he was a child dreamed about becoming a mangaka when he grows up, but he let go of the dream after finding out that his mangaka uncle who inspired him had died due to overwork or suicide as he believed.
One day one of his classmates Akito Takagi finds Mashiro's notebook filled with his drawing and asks him to become his partner in making a manga, where he would write and Mashiro would draw.
Mashiro rejects him at first but ends up accepting because of a reason and that is his crush Miho Azuki who is aiming to become a voice actress.
Mashiro who had gone to azuki's house just to know the truth ends up asking her to marry him if their manga becomes an anime and she gives her voice in it as a lead actress.
---
9 – Love so Life
Created by Kaede Kochi
Genres: Comedy, Slice of life, Drama, Shoujo, Romance
Volumes: 17
Status: Completed
Original Run: Apr 14, 2008 – Sep 18, 2015
Who Would Like it?
This manga is about an orphan high school girl and twins (a boy and a girl) she babysits, who had lost their mother and had been abandoned by their father.
They are left in the care of their father's unmarried younger brother, who is a newscaster by his profession, due to his hectic work and inexperience he decides to hire a babysitter to help him.
The manga is about the girl and her day to day life with these cute children who adore and love her more than their family and also a romance that slowly grows between their guardian and her.
Synopsis
Shiharu Nakamura (high school girl) works at a day-care where twins Aoi and Akane Matsunaga go.
The twins are under the care of their uncle Seiji, as their father had abandoned them as he could not handle the sudden death of his wife (Their Mother).
Shiharu is hired by Seiji as he realizes how attached the twin is to her by offering double the amount, she gets in the daycare.
Thus, start the story of both shiharu and Seiji taking care of the twins.
---
8 – ReLife
Created by Yayoiso
Genres: Slice of life, Romance, School
Volumes: 15
Status: Completed
Original Run: Oct 12, 2013 – Mar 16, 2018
Who Would Like it?
The manga is about a 27-year-old guy who gets a second chance in his life, it's not an isekai (Otherworld) type manga but has a similar theme.
The manga is about a guy who after falling to get a job for several years, after quitting his first job in 3 months is approached by a company that helps people like him to rehabilitate.
They plan to help him by sending him again to high school again, with the help of a pill that can reduce his age so that he could try and correct how he was living his life.
Synopsis
Arata Kaizaki is a 27-year-old NEET, who has not been able to find any employment for the last several years and has been working part-time in a convenience store.
He had quit his first job just in three months due to some unforeseeable circumstances and lost confidence in himself after falling many interviews one after another after that.
One day he is approached by a man named Ryo Yoake, who offers him a proposal that if he became a tester for their companies experiment "RELIFE", they would guarantee that he gets a job.
The experiment "RELIFE" is a scientific experiment that would make him 10 years younger and they would send him to high school again, where he as a student could experience his youth again and regain his confidence.
---
7 – Yotsuba &!
Created by Kiyohiko Azuma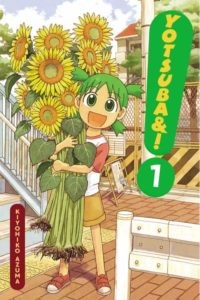 Genres: Comedy, Slice of life
Volumes: 14
Status: Ongoing
Original Run: Mar, 2003 – Present
Who Would Like it?
This slice of life manga is all about a little girl and her daily adventures.
Watching Yotsuba living her life as she learns about a new thing like pizza, flavored milk, and many more things is very fun and I will assure you that you would really enjoy it.
Accompanying her are characters that range from her father, his best friend, neighbor three sister and many more people that she comes across.
Synopsis
Yotsuba Koiwai is a 5-year-old girl who is an energetic, cheerful, curious, and quirky child.
She stays with her Father Yousuke Koiwai, as they have just moved to a new home she finds herself surrounded by new people and things.
Her naive reaction to the things she finds around herself such as doorbells, escalators, air conditioners, and even playground swings and how she learns about those things is very Funny to watch.
Due to the regular interaction with her father's best friend whose nickname is Jumbo(A very tall man) And the neighbor family with three sisters Asagi, Fuuka, and Ena, She discovers many new things and creates her own interpretation of it.
This Childcare manga is about a quirky child and her misadventures.
---
6 – Barakamon
Created by Satsuki Yoshino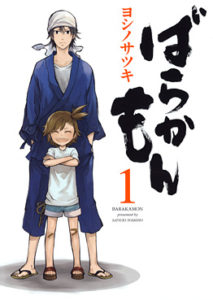 Genres: Comedy, Slice of life
Volumes: 18
Status: Completed
Original Run: Feb 21, 2009 – Dec 12, 2018
Who Would Like it?
A lovely manga about a cute, quirky and energetic six-year-old girl from an island.
You would love this manga if you fan of manga with child characters who bring down any groggy character down to their level.
The manga is filled with may child characters who surround the main character and force him to enjoy his life on the island.
Synopsis
Handa is a young pro calligrapher, who ends up punching an elderly expert who called his work unoriginal or like a textbook.
As a punishment, his father sends him to Gotō Island where he meets many villagers and interact with them.
One of whom is a 6-year-old girl Naru Kotoishi who is a very energetic, curious, and reckless child.
She visits Handa's house every day to play and harass him in many ways.
---
5 – A Brides Story
Created by kaoru Mori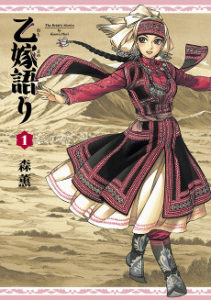 Genres: Slice of life, Romance, Historical, Seinen
Volumes: 12
Status: Ongoing
Original Run: Oct 14, 2008 – Present
Who Would Like it?
A slice of life manga about nomad life in the nineteenth century, it is about a young boy getting married to an older girl and how she adjusts to her new family with a different culture.
You would love this if you like manga drawn with amazing detail and breath-taking visuals.
Synopsis
The story is set in nineteenth-century Asia and is about the nomads that traveled on the silk road.
It follows Amir a 20-year-old girl who is to be married to a 12-year-old boy from a different tribe, which is common in their tribe, they both get to see each other for the first time on the day of their marriage and as both of them have different culture it's on Amir has to adapt to of her husband's world.
As she is surrounded by very nice people and due to her sweet and hardworking nature, she is able to adapt to her new life at a fast pace.
But conflict arises when for no apparent reason Amir's brother comes to take her back and she denies returning with her brother back home.
---
4 – Space Brothers
Created by Chuya Koyama
Genres: Comedy, Slice of life, Science Fiction
Volumes: 37
Status: Ongoing
Original Run: Dec 6, 2007 – Present
Who Would Like it?
We all have once dreamed to go to space at one point in our life of others if you have then this manga will totally make you nostalgic.
The manga is about two brothers and their dream to go to space from childhood and shows a realistic depiction of how one could become an Astronaut.
Synopsis
Mutta Nanba with his younger brother Hibito in the summer of 2006 had witnessed a U.F.O that flew toward the moon or so they believed.
On that day Hibto Decide that he will go to the moon and Mutta challenged him that he would go farther and his aim became Mars.
Nineteen years later Hibito is a JAXA astronaut who is assigned to go on a moon mission.
Meanwhile, Mutta is still in pursuit of his dream to become an astronaut but slowly losing his will.
Mutta eventually starts getting fired up again as he receives a letter telling him that he has been accepted into the JAXA training program for the new astronauts.
---
3 – Horimiya
Created by HERO and Daisuke Hagiwara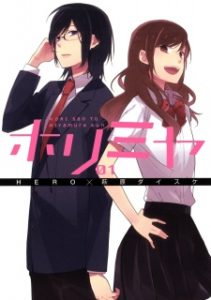 Genres: Comedy, Slice of life, School, Shounen, Romance
Volumes: 14
Status: Ongoing
Original Run: 2011 – Present
Who Would Like it?
Despite being published in a Shonen magazine this is in the list and that because on reading it you will be hard-pressed to call it a Shonen manga.
It is something in between and is really very fun to read as the story progress and you start getting to know more characters.
Synopsis
Kyoko Hori is some who you would consider as a popular girl in the school due to her bright and outgoing nature and at home a total opposite as she likes to dress down and take care of her little brother Souta, which was her secret.
Meanwhile, Izumi Miyamura is a typical nerdy guy with unkempt hair and glasses, who one day helps Souta getting home after he had fallen on the road and ends going to Hori's House.
But Hori finds herself talking to a punk Looking guy who had tattoos and piercing all over rather than the nerdy kid from her class.
They both decide to keep their real personalities a secret from their friends and classmates and soon they find themselves becoming friends and then later on a couple.
---
2 – March comes in like a lion (3 – gatsu no Lion)
Created by Chica Umino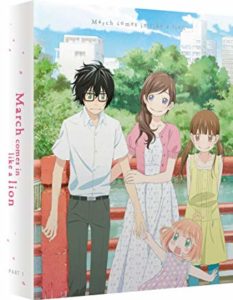 Genres: Slice of life, Drama, Game, Seinen
Volumes: 15
Status: Ongoing
Original Run: Jul 13 , 2007 – Present
Who Would Like it?
This slice of life manga is about a lonely boy who lives alone far from his adopted family, is a Shogi pro and earns his living from it.
How his life changes after meeting a family of three sisters and how they take him into their life.
Synopsis
Rie Kiriyamna is a Shogi player who at the age of 17 years has acquired the status of professional.
Rie had lost his family at a very early age, after which he was adopted by a family friend, But due to many circumstances in his foster family he soon ends up living on his own.
He is a weird circumstance get acquainted with a family of three sisters Akira, Hinata, and Momo and their several cats.
We see the story of Rie's life effected by his fellow Shogi competitors and these three sisters.
---
1 – Silver Spoon
Created by Hiromu Arakawa
Genres: Comedy, Slice of life, Drama, Shounen, Romance
Volumes: 15
Status: Completed
Original Run:  Apr 6, 2011 – Nov 27, 2019 
Who Would Like it?
A slice of life manga from Hiromu Arakawa creator of "Fullmetal Alchemist", one of the best manga of all time.
This manga is about a city boy who joins a faraway Agriculture high school and how his life turns after that.
Synopsis
Yuugo Hachiken after failing the entrance exam of the high school of his choice enrolls at Ooezo Agricultural High School far away from his city life.
Hachiken had a strained relationship with his family which was the main reason to choose a high school which was far away from his home.
Ooezo agricultural school which unlike a typical high school where all you do is study but had a wide range of other activates connected to the world of agriculture.
A new world opens up for Hachiken when as he slowly comes on a term with his new environment and struggles of his new life. 
---
Some of other slice of life manga that you must checkout are
Your lie in April
Azumanga Daioh
My Teen Romantic Comedy SNAFU
Toradora
Nichijou
Clannad
Genshiken
Saint Young Men
K-on
Bunny Drop
Read our other popular articles