8 Best 80s Manga That Are Better Than Many Manga's Of Today
Every medium has a place where it all began, history of manga suggests that it originated in the 12th century, though we won't find manga as old as the 12th century, the best place to start is the 80s Mangas.
The 80s was the time that gave us many amazing mangas that had a huge hand in creating the manga culture in japan and some even pushed that culture on to the whole world.
As there are some manga series that had started in the 80s and are still running like JOJO's Bizarre Adventures(One of the longest manga series that is still ongoing ) need a different list altogether.
Due to that this list only includes those 80s manga series that had ended their serialization before the 90s and can be considered as an 80s manga as a whole.
So these are the 80s manga that had immortalized manga as a medium of storytelling, which now is a worldwide phenomenon.
  8 

  Astro Boy
Created by Osamu Tezuka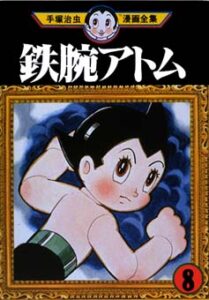 Genres

: Adventure, Science Fiction, Superhero


Volumes

: 23

Original Run

: Apr 1952 – Mar 1968
Astro Boy is one of the oldest manga on the list that ran from 1952 to 1968 and is said to be the most famous work of the Mangaka Osamu Tezuka, who is widely considered as "The Father Of Manga".
Astro Boy is set in a future world where robots and humans coexist with each other and follow the story of a powerful android named Astro.
Astro was created by the head of the ministry of science, Doctor Tenma, in the memory of his deceased son Tobio, who had died in a traffic accident.
Doctor Tenma who had created Astor and had adopted him to fill the void of his lost son, soon realizes that an android would never be capable of replacing a human as it would never grow old or express any human emotions.
---
  7  

  Ghost In The Shell

Created by Masamune Shirow
Genres

: Cyberpunk, Action, Police, Psychological,

Seinen




Volumes

: 1

Original Run

: Apr 1989 – Nov 1990
Ghost in the Shell is a cyberpunk manga that ran from 1989 to 1990.
This manga's story is set in the 21st century in a fictional city named Niiham in japan, also known as New Port City, and follows the life of some members of a task force called public security section 9.
This task force's main work is to prevent crime and counter-terrorism, using their diverse skill to stop many explosive situations and to deescalate them.
The main character of this Manga is Major Motoko Kusanagi, who was in a terrible accident as a child which resulted in her using an android body to house her cyber brain to survive.
Now as a cyborg her brain is open to attacks from highly skilled hackers, who can hack her and bend her to their will.
---
  6  

  BlackJack

Created by Osamu Tezuka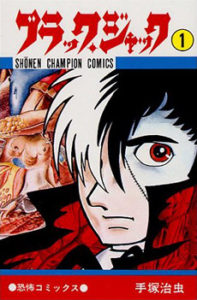 Genres

: Drama, Medical, Shounen


Volumes

: 17

Original Run

: Nov 1973 – Oct 1983
This is one of the three manga on the list by the great Osamu Tezuka, No wonder he is known as the Father of Manga and revered as some who shaped manga in its formative years to what we see now.
BlackJack is a story of a Genius Doctor who had a life-threatening accident as a child and the only reason he was able to survive was because of a surgery that had turned his hair white and half of his face black.
This surgery was the incident that had put him on the path to become a surgeon, but in spite of his medical genius, he chose not to get a medical license and decided to work under shadows free from rules and corruption.
---
  5  

  Dororo

Created by Osamu Tezuka
Genres

: Action, Adventure, Demons, Historical, Supernatural, Shounen


Volumes

: 4

Original Run

: Aug 1967 – Oct 1969
This is the second manga in this list by Osamu Tezuka, which is considered as one of his darkest manga that ran from 1967 to 1969.
Its story follows a ronin named Hyakkimaru, who was born without limbs, internal organs, or face.
All of these were taken from him on his birth by 12 demons, who had a pact with his father lord Kagemitsu Daigo that they could take anything he owned and the demons would increase his wealth and bring prosperity to his land.
Now as a young man Hyakkimaru finds out that he can gain back his body piece by piece by killing every demon, so now he is on a journey to get his body back with a young thief named Dororo.
---
  4  

  Touch

Created by Mitsuru Adachi
Genres

: Comedy, Drama, Romance, School, Sports, Shounen


Volumes

: 26

Original Run

: Aug 1981 – Oct 1986
Touch is a Mitsuru Adachi 80's manga that ran from 1981 to 1986 and is one of my most favorite manga from the 80s.
Mitsuru Adachi is someone who is well known for his manga that has a great mix of romance, comedy, focuses on sports, and a little bit of tragedy.
One of the best examples of that is this manga, which follows the story of twin brother Tatsuya and Kazuya Uesugi and their neighbor Minami Asakura.
Kazuya is the hard-working brother, who never wants to lose to his naturally talented brother, meanwhile, Tatsuya is someone who wants to live his life lazing around.
Now both brothers as high schoolers are coming to terms with their love for Minami and want to one-up each other to get her attention.
That's how their life went on till one day when a tragic accident changed their life in a snap.
---
  3  

  Fist Of The North Star

Created by Buronson And Tetsuo Hara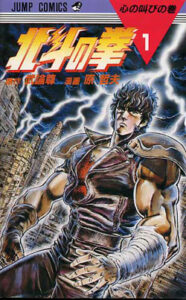 Genres

: Action, Drama, Martial Arts, Shounen


Volumes

: 27

Original Run

: Sep 1983 – Aug 1988
Fist of North Star is an 80's manga that ran from 1983 to 1988.
During its run in the 80s, it was the most popular martial art manga and is still considered as one of the most influential shounen manga series of all time.
The manga is set in a world that was ruined and turned into a desert wasteland due to a nuclear war, where food and water were now scarce and the strong preyed on the weak.
The story is about Kenshiro, who is the successor of a ancient martial art that can kill any opponents from inside, and his journey of how he became the savior of this post-apocalyptic world.
---
  2  

  Akira
Created by Katsuhiro Otomo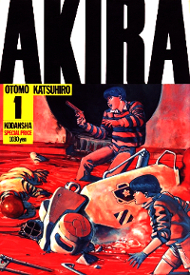 Genres

: Action, Military, Sci-fi, Adventure, Horror, Supernatural, Seinen


Volumes

: 6

Original Run

: Dec 1982 – Jun 1990
Akira was an 80's manga that ran from 1982 to 1990 and was one of the first ones to be ever completely translated into English.
Its immense popularity in the western world was the reason that the anime and manga culture was noticed by everyone in the world.
Akira is a cyberpunk manga that is set in a futuristic and post-apocalyptic Tokyo, which was destroyed more than 20 years ago and now in its place, a new city was built on an artificial island called Neo Tokyo.
The story focuses on Kaneda, a teenage biker gang leader, Kei a revolutionary, and Tetsuo, Kaneda's unstable childhood friend who gains a powerful psychic ability that he uses to ravage the city.
---
  1  

  Ashita No Joe

Created by Asao Takamori and Tetsuya Chiba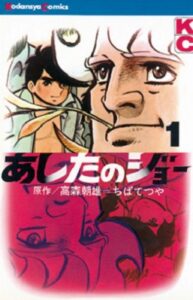 Genres

: Action, Drama, Shounen, Slice OF life, Sports


Volumes

: 20

Original Run

: Jan 1968- May 1973
Ashita no joe is a boxing manga from the 70s that ran from 1968 to 1973 and was recently adapted in a modern way titled "Megalo Box".
This manga is considered as one of the most influential manga, with many mangas and anime referencing it as an inspiration and that's exactly how I found this manga for the first time from a snippet of conversation from a manga called Bakuman.
The story follows a young drifter named Joe Yabuki, who meets a boxing trainer while wandering in the town named Danpie Tange.
Tange takes notice of his fighting skill when he effortlessly fights off a local gang all alone and offers to train him, but Joe dismisses him as a drunk fool.
But later on, as Joe is rescued by him from a life-threatening situation, he agrees to live and train with him and learn boxing.
---
So this where some 80's manga that is much better than many mangas you would find today.
So, Which are your favorite mangas from the 80s and back?
Where they on the list or did I miss it, please comment on the name of the manga as I would love to read every brilliant manga out there.
If you are a manga lover like me, you should check out my post about the best mangas that are far better than their anime adaptions.