Best Childcare Manga with Cute Child Characters
It's always fun to read a Childcare manga where the main character is taking care of one or many children.
As the main character try his very best to balance his own life and the children's, We get to see many stories that make us laugh and cry all together.
So here is some such childcare manga that you should read if you love cute child character in mangas…
---
Yotsuba&!

Yotsuba Koiwai is a 5-year-old girl who is an energetic, cheerful, curious, and quirky child.
She stays with her Father Yousuke Koiwai, as they have just moved to a new home she finds herself surrounded by new people and things.
Her naive reaction to the things she finds around herself such as doorbells, escalators, air conditioners, and even playground swings and how she learns about those things is very Funny to watch.
Due to the regular interaction with her father's best friend whose nickname is Jumbo(A very tall man) And the neighbor family with three sisters  Asagi, Fuuka, and Ena, She discovers many new things and creates her own interpretation of it.
This Childcare manga is about a quirky child and her misadventures.
---
Gakuen Babysitters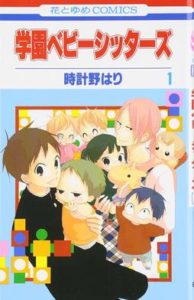 This manga is about Ryuichi Kashima and his young brother Kotaro who have lost their parents due to a plane crash.
The chairwoman of Morinomiya  Academy (Who also lost her son and daughter-in-law in the same plane crash) offers to let them stay with her and attended her school on a  condition that Ryuichi will help out with the school's daycare center and take care of the children as their babysitter.
The Daycare or babysitter club as it is called have a total of 6 other children named Taka(an energetic child), Takuma, Kazuma (twins), Kirin(Girl in the bunch), Midori(cute small baby) and Kotaro(younger brother).
This Childcare Manga has many cute moments with tons of cute children and their high schooler Babysitters.
---
Usagi drop

| | | | | |
| --- | --- | --- | --- | --- |
| Volume | 9 | | Status | Completed |
Daikichi Kawachi's 30-year-old man finds out that his grandfather has a  six-year-old illegitimate daughter,  as he goes to attend the said grandfather's funeral.
Rin Kaga the illegitimate child is treated poorly by his relative which annoyed daikichi, Due to which he decides to take care of Rin himself.
As Rin becomes part of his life, he finds out how hard its to be a single parent.
But with the help of another such parent that he befriends he starts to acknowledge that all his sacrifices for Rin have been worth it.
---
Barakamon
Handa is a young pro calligrapher, who ends up punching an elderly expert who called his work unoriginal or like a textbook.
As a punishment, his father sends him to  Gotō Island where he meets many villagers and interact with them.one of whom is a 6-year-old girl Naru Kotoishi who is very a energetic, curious, and reckless child.
She visits Handa's house every day to play and harass him in many ways.
---
Hanamaru Kindergarten

| | | | | |
| --- | --- | --- | --- | --- |
| Volume | 11+1 | | Status | Completed |
Naozumi Tsuchida has chosen to become a kindergarten teacher, hoping for an easy job and being surrounded by other female teachers.
Meanwhile, Anzu is the daughter of his childhood crush and his friend is his student who proposed to him on the first day of the kindergarten.
Thus began the love triangle as per Anzu between her, Tsuchida and Tsuchida crush Nanako Yamamoto a teacher in the kindergarten.
This Childcare manga is about a kindergarten teacher and a girl who has a crush on him.
---
Love So Life
| | | | | |
| --- | --- | --- | --- | --- |
| Volume | 17 | | Status | Completed |
Shiharu Nakamura (high school girl)  works at a daycare where twins Aoi and Akane Matsunaga go.
The twins are under the care of their uncle Seiji,  as their father had abandoned them as he could not handle the sudden death of his wife (Their Mother).
Shiharu is hired by Seiji as he realizes how attached the twin is to her by offering double the amount she gets in the daycare.
Thus start the story of both shiharu and Seiji taking care of the twins.
---
Other such lists that you would like :